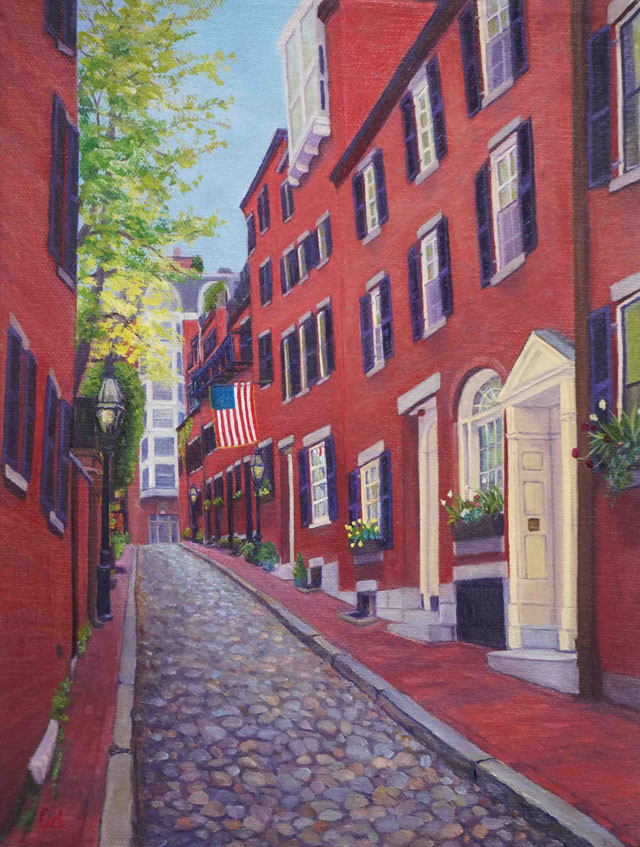 Cid Nerenberg
I immigrated to the USA from Sao Miguel, Azores when I was five years old. I'm one of five children raised in a three-generation household. From a young age, I enjoyed drawing everything around me. As I grew older, I developed a love for oil painting. Though I pursued a Business/Finance degree from Boston University, I never gave-up the dream of becoming an artist.
Although primarily self-taught, I have been fortunate to take numerous plein air and studio lessons through various art associations. My methods are traditional and mostly realistic, paying close attention to values and perspective. My inspiration comes from just about anything: looking-up and seeing how light filters down through the million leaves of a maple tree. Or perhaps, it's a bowl of spicy peppers, each unique, and yet together an arrangement of colors that evoke a festive time.
In 2011, I was diagnosed with breast cancer. It forced me to evaluate my life and decide what was important. I'm blessed to be healthy today, and thankful for the love and support I received along my journey. Painting gave me something no medicine could. It was my escape.
I am a member of numerous art associations and have been actively exhibiting my work throughout the greater Boston, and South Shore area.
Main Subject
Florals, still lifes, landscapes
Materials and Techniques
All my oil paintings are done on either linen or cotton duck stretched canvases. My approach is traditional and employs multiple layers, working from lean to fat, unless I'm working En Plein Air. My personal style utilizes realistic techniques, paying close attention to values and perspective. Prior to painting, I work on small scale studies, until I'm pleased with the composition.